Up until the late 1970's the prevailing Design winds blew Modern. Mies Van der Rohe, Marcel Breuer, and Le Corbusier were Gods. Modernism offered rules, constraints, and universal solutions. Universality being the key here: there was no ounce of individuality to be found under the flat white roof of Modernism. Rules are rules, and they were not made to be broken. "Form follows function" was the manifesto, and Modernism the epitome of clear, simple, machine-made perfection.
As much as Modernism was a metaphor for Socialism, Post-Modernism was for Capitalism.
We often hear the 1980's referred to as "The Designer Decade". There was a gaudy irreverence in the air... like a cocaine-fueled design binge. It was the good days - people had cash to flash and Designers became a new sub-heading of Rock Star.
Postmodernism was the official style of corporate consumer culture. (Think: Oliver Stone's 1987 Wall Street where the Daryl Hannah character redecorates the Charlie Sheen character's apartment in classic Po-Mo Memphis Style.)
(Patrick Nagel Print)
Looking back now, Postmodernism is likely one of the most hated (or at least, controversial) design styles in history. It emerged on the scene as a giant middle finger to Modernism. It was unstable, ironic, and un-apologetically bold.
Postmodernism didn't give a rat's ass about tip-toeing around conventional memes or bothering to respect the establishment. It wanted to shatter the notions of so-called "Good Taste".
But the funny thing is, Ettore Sottsass (widely considered the Grandfather of Post-Modernism) was not himself a cynic - he was an optimist who romanticized the elevation of the everyday into artistic artifacts. He rebuked the "boring" and had an affinity for the theatrical, colorful, contradictory and the absurd.


Toward the tail-end of 1980, Sottsass got a group of designers over to his Milan apartment. In his sixties he was the elder among a group of young twenty-somethings. This group eventually included
Alessandro Medini, Nathalie du Pasquier, Hans Hollein, George Sowden and others.
Their vitality and youth picked up on the new-wave, post-punk rebellious attitudes of the time. They were to be known as The Memphis Group. They were painfully self-aware, seeing themselves in the Design History Timeline and playfully adding "post" or "neo" to absolutely every classification (neo-Mesopotamian, neo-art-deco-
primitivism
, neo-classisism, ad infinitum
). They experimented with combinations of materials, design styles, and motifs to make a statement.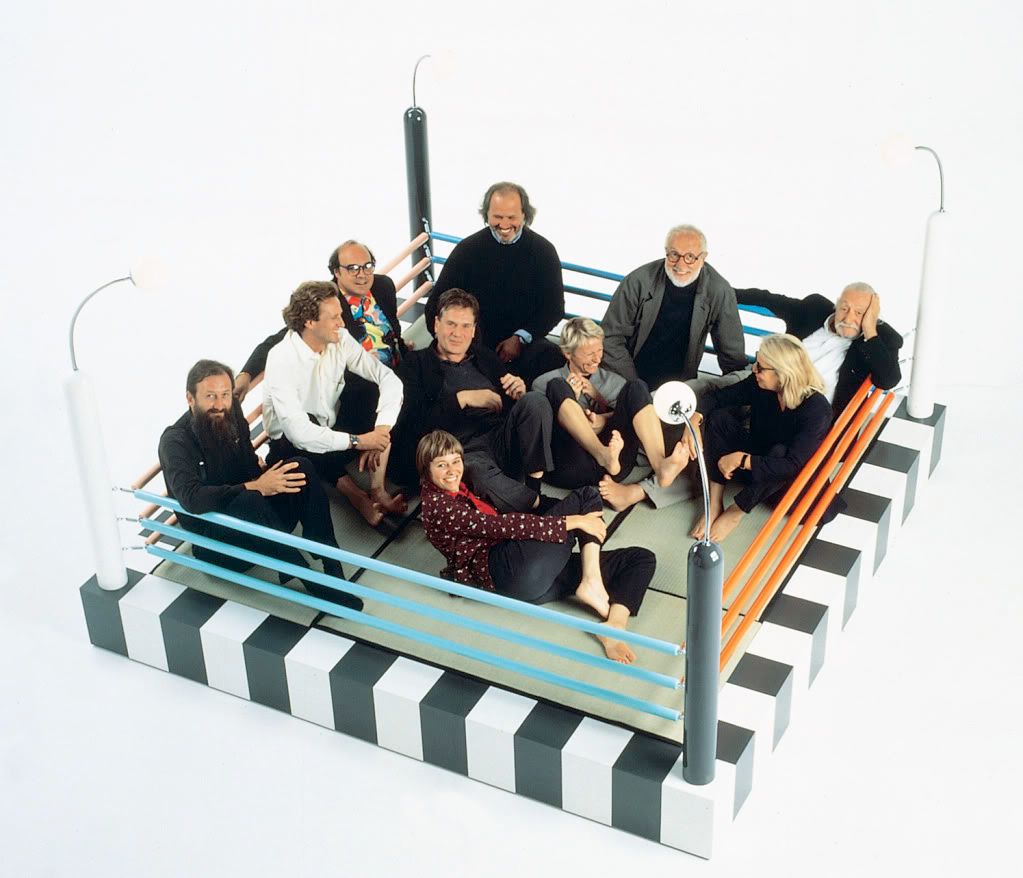 Where Modernism preached "either/or", Postmodernism practiced "both/and". It favored messy vitality over obvious unity. It preferred ambiguity and richness of meaning over clarity. It was full of color, deliberate juxtapositions and "pastiche" of historical references.
Or was it all just a cliche in bad taste? How can we as designers defend the use of faux-marble plastic laminates covering up chipboard? Was it all just a scam, like a Wall-Street-Fat-Cat cooking the books? The Memphis Group has been called "a shotgun wedding between Bauhaus and Fisher Price". Critics saw it as some sort of joke, and they weren't entirely wrong: David Harvey once said "Postmodernism swims, even wallows, in the fragmentary and chaotic currents of change, as if that is all there is". One of the defining members of the Memphis Group, Alessandro Mendini (Studio Alchimia) maybe took his designs a step too far - to a place of gimmicky merchandising, too kitschy to be taken seriously.
My humble opinion? Post-modernism is totally my jam. Within its framework, it gives me permission to dip in and out of any design style on a whim. It is a provocative call for diversity.The in-congruous (even ludicrous) combinations add complexity and above all, a sense of humor.
Buckle up for a resurgence of 1980's Designer pieces from collectors and vendors.
Skyrocketing prices for Art Deco and Mid-Century Modern pieces, combined with the sheer amount of artifacts that were pushed into the consumer mainstream during that decade means there is a mountain of objects out there waiting to be re-introduced and re-worked into our 21st century design lexicon. This will be achieved with a healthy dose of irony.
We're living in a post-post-modernist world, absolutely anything goes. Time to have some fun.

More Visual Overload on our Memphis Group Pinterest Board: